New Requirement for Section of Georgia Appalachian Trail:
Bear Canisters
Below is a new trail update from the ATC (Appalachian Trail Conservancy) website for overnight hikers on the AT for a section of trail in Georgia:
Georgia
Bear canisters required for camping between Jarrard Gap and Neel Gap
A new U.S. Forest Service rule requires approved bear-resistant storage containers for overnight camping on a 5-mile stretch of the A.T. in the Chattahoochee National Forest between Jarrard Gap and Neel Gap, between March 1 and June 1. This stretch is located between points 26.7 and 31.7 miles north of the southern terminus of the A.T. at Springer Mountain, Georgia, and includes Woods Hole Shelter, Slaughter Creek Campsite, and Blood Mountain Shelter. "Bear canisters" should be used to store food, food containers, garbage and toiletries
Unfortunately, Yogi has come to like the taste of Snickers and other hiker delicacies and has found the meals too often an easy grab. Such carelessness by some has apparently caused the need for this new requirement. The practice of bear-bag hanging from tree limbs is no longer acceptable.
Remember, there's only one creature more dangerous than a hungry bear -
a hungry thru-hiker!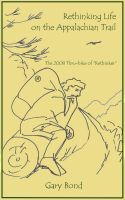 For further reading on Appalachian Trail advenures:
Rethinking Life on the Appalachian Trail:
The 2008 Thru-hike of "Rethinker"
Ebook description
Dreams of an AT thru-hike lay dormant for 30 years. After a period of rethinking life's course, Gary (trailname, "Rethinker") turned his dreams into a quest. Pages of the 2175-mile journey provide insight both into Nature's often disagreeable companionship and lessons learned from other partners of the trail. Walk along in this life-changing experience and discover the unexpected at journey's end.
Sample and purchase below - and thanks for your support!